Fisher Price Laugh & Learn Say Please Tea Set
Time to pretend play by sharing a cup of tea with mommy and friends (imaginary or real).
The teapot is the main feature and it is so CUTE! It has 3 different settings. The first setting has "fun" sounds when you "pour" tea for everyone, close / lift the teapot lid and when you "press" the teabag.
The other 2 settings have various sounds or songs and music that accompany the actions associated with them.
When you pour from the teapot you can hear the pretend tea coming out. You can however shut this sound off if you would like.
Picture your child setting up all of her stuffed animals and offering them tea. Watch as she takes a sip of tea and then says "Ahhh" afterwards.
All the sounds and music will just add to the fun of the tea party.
You might find that your child uses her teapot for other things like watering all the flowers in the house.
The two purple tea cups do not actually hold water. Remember this is a pretend tea set. No Mess.
---
Laugh and Learn Say Please Tea Set
The Say Please Tea Set also has a little plate with 3 desserts of three different shapes (circle, triangle and square). Your child can learn how to place the desserts correctly on the plate. You will find her "serving" you dessert, even at the dinner table.
The Tea Set has 3 play modes: Learning, Music and Imagination.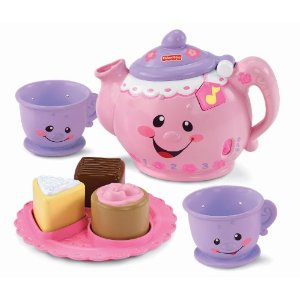 2 Tea Cups included
A Cookie Tray for Sorting and Serving
Three teethable Cookies
Three Songs
Fun Sound Effects when the teapot is tipped for pouring
Press the Teabag to hear a Song
The teapot requires 2 AA batteries. Like other Fisher Price Learning Toys this toy is very durable.
Tea set is a combination of Pink and Purple colors; most little girl favorites.
Your child will love the sound of tea actually pouring from the pot. And, the little plate of treats is so cute.
The magic starts when the teapot lid opens to play silly sounds and share greetings.
This toy will help teach your child to say please, thank you and welcome. They will also learn skills like counting, shapes, opposites and more. Build on this toy with a play kitchen as your child gets older.
This tea set will help your child learn to use a cup and to pour liquid into a cup. The songs make this little tea set even more fun to play with.
The Say Please Tea Set classic theme introduces baby to early role play and social skills.
Buy Fisher Price Toys
Great Gift for your best friend's little one, a grandchild or your own growing baby!
Shop Online and Save at Amazon.com
If you find the Say Please Tea Set sold out at Amazon then try the Ebay "Buy It Now" offers or at Walmart.com.
A nice companion to the Laugh & Learn Say Please Tea Set is Ruby's Tea for Two Board Book. Check it Out at Amazon.com before you go.