Fisher Price Learning Home
The Laugh & Learn Learning Home is such a winner with children that it has 500 customer reviews on Amazon.com who have given it a 5 star rating. Children Love It! There are so many different things to play with and ways to learn.
Your child will love to crawl in and out of the Learning Home while discovering new buttons and things.

There are so many interesting things on the Learning Home. There are house numbers, the rain gutter, the clock, radio, mailbox, window, etc., etc.
Customers have commented that their child has used this toy more than any others that they have purchased for them.
Listen.... Hear your child laughing as they play and learn while playing with the Laugh & Learn Learning Home
Laugh & Learn Learning Home
Your little one will be entertained with sing-along songs as he or she explores all the discoveries found in the Learning Home. Each side of the Learning House is loaded with sounds, activities, speech and music.
Your child will be learning Numbers, Letters, Colors, Opposites, Counting, Greetings and more...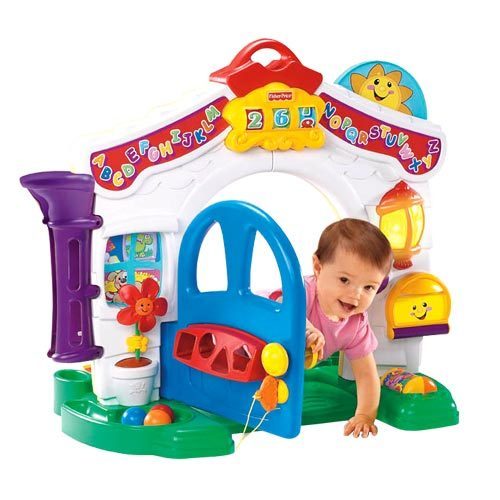 The Learning House has two sides. One side is the "outside" of the house which has the mailbox, a flower, a dial on the ground with flowers and bugs on it, a doorbell that rings, house numbers that rotate and a ball drop.
The other side "inside" of the house has a phonebook that flips pages, a radio that plays, a clock and a working light switch. From either side you can access the window, the door and the sun/moon dial.
All the different things each have sounds, voices and songs.
This Learning Toy will still be there still providing fun as your child grows. Your child will enjoy and learn from some of the following available with the Fisher Price Learning Home:
Giggling with joy as they crawl throught the door over and over - You can add to this fun by playing Play Peek-a-boo
Place mail in the mail box for your child to find - then read the letter to them
Children actually find it a lot of fun to just open and shut the mailbox
Open/Close the window
Switch on/off the light
Turn the numbers on the house or clock (listen to the clock tick)
Press the radio buttons
At first, take shapes out of the various shaped holes
Then, gradually learn how to put the different shapes back into the right shaped holes
Start one of the 21 songs by touching, tweaking or pulling different parts of the play set
Drop balls down a water spout in order to hear the itsy-bitsy spider song
Lean to Ring the doorbell
Watch a flower grow
and more.....
Parents have been impressed with the quality of the Fisher Price Learning Home. It takes less than 30 minutes to put together. The entire house runs on three "C" batteries and seem to hold up for a good while even though all the house parts get a lot of use.
The home is light weight and using the handle on top it is easy to move around from room to room. Some parents report moving the house out of site when it gets close to bedtime.
Your child will enjoy playing with the Laugh & Learn Learning Home alone for hours at a time. It is also a great toy for interaction from an older child or parent.
Here are a few helpful key snippets from customer reviews of the Learning Home from Amazon.com.
"We have 10 month old twin boys. I am always trying to find a toy that they can both play with. This toy is great, there is so many things to do they dont fight over the same thing. Best of all the toy has not tipped over yet! "
"I can not say enough good things about it. The music is cute and they love going through the door. It has everything they need for imaginary play (great for my 3 yr old) and alot of gadgets for hand and eye cordination and cause and effect (great for my 1 yr old). It also addresses number recognition."
"This toy is a STAPLE and a MUST HAVE!!!!! We got this toy for my daughter last christmas (she was 6 months old) and she still plays with it every day! It's very durable and has sustained a lot of toddler abuse and still even looks brand new. We've yet to change the batteries...."
Read more customer Reviews at Amazon.com
Buy Fisher Price Toys
This is a WINNER! - It is one of the best learning toys available today.
Shop Online and Save at Amazon.com
If you find the Learning Home sold out at Amazon then try the Ebay "Buy It Now" offers.
You can continue your child's learning experience by adding other Laugh & Learn items such as the Fisher Price Learning Phone, the Fisher Price Learning Puppy (his bowl is already on the learning home) and the Fisher Price Bird Bath.