Laugh & Learn Learning Farm
The Laugh & Learn Learning Farm is great supplement to the Fisher Price Learning Home. You can expand your child's learning experience from the home to life outdoors.
At the Learning Farm animal friends are ready to share all about their life on a farm. They do that with animal sounds, fun phrases, dancing lights and sing-along songs.

Your child will learn the alphabet, counting, animal names and sounds, greetings, about weather, different shapes and more....
As with most Fisher Price Learning Toys the Learning Farm is very sturdy and can withstand even the rough and tough explorations of your baby and even their companion dog.
This is a toy that will keep your child entertained for hours at a time and also something that he and she will keep going back to.
It is also great to entertain their friends with also.
---
Laugh and Learn Learning Farm
The Learning Farm has three modes: Learning Mode, Imagination Mode and Music Mode.
In Learning Mode your child will learn things like the alphabet with music and crawl through fun, learn to count eggs as they drop through the chute, how to sort shapes and discover various colors, opposites, such as on and off and open and closed. They will also learn animal names, the sounds they make and what they eat.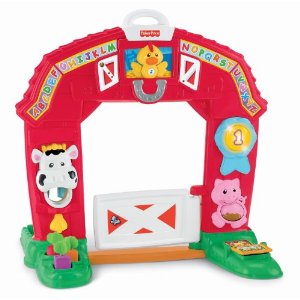 In Music Mode they will learn to sing along with delightful and fun farm songs, greetings, animal and farm sounds.
In Imagination Mode the learning continues with the joy of role play.
Here are just some of the fun things that your child will enjoy on the Farm:
Opening and closing the barn door and Crawling through the door
Feeding the cow his veggies
Dropping eggs down the shoot
The sounds of On/Off when the light switch is flipped
Switch on/off the light
Planting flowers
Learning the animal sounds
and more.....
Your child will learn to pull themselves up and all the activities will strengthen hand/eye coordination.
Here are a few helpful key snippets from customer reviews on Amazon.com about the Learning Farm.
"I see this toy as a money saver since it keeps me from having to buy a bunch of other toys. "
"I absolutely love this toy! My daughter can not stop playing with it! She loves opening and closing the barn door, and feeding the cow. If this was the only toy she had, I am pretty sure she would be fine with that! :) "
"I had to hide in another room while I put it together. Follow the directions or you might end up taking it apart to insert the barn yard door."
"He hasn't lost interest yet. and every time he plays with it he discovers something new."
Read more customer Reviews at Amazon.com
Buy Fisher Price Toys
This is a GREAT ADDITION to the Fisher Price Learning Home!
Shop Online and Save at Amazon.com
If you find the Learning Farm sold out at Amazon then try the Ebay "Buy It Now" offers or at Walmart.com.
If you would like more eggs or shapes (or have lost some of yours) then you may also want to purchase the Learning Farm Accessories Pack.