"My Little One Absolutely LOVES it!"
Isn't it wonderful when you find an educational toy that is so much fun your child LOVES IT months and even years after you purchased it?
Fisher Price Toys
With Fisher Price Learning Toys you get this kind of excitement and love for educational toys from your little ones. In addition, Fisher Price has a wide array of accessoies for their learning toys that will enhance the learning experience for your child.
Your child will literally play with these toys for hours on end. And all the while learning as they go.
Fisher Price provides toys and children's products that you can depend on to be fun and enriching for your child's early years; and, they are very sturdy.
The company has been around since the 1930's and today is the number one preschool toy company in the world. So, you can rely on them to be there if you ever have a problem with any of your purchases.
With Fisher Price Learning Toys your child can have fun while they learn to crawl, pull up, talk, sing, use their arms and legs, open and close things and so much more of the early years growng process. Your child will get exercise and have a lot of fun sharing their experiences with their playmate friends.
So here are a few of other parent's favorites:
Fisher Price Learning Home
The Learning Home is so popular that it has a 5 star rating on Amazon.com by 500 customer reviews. Children L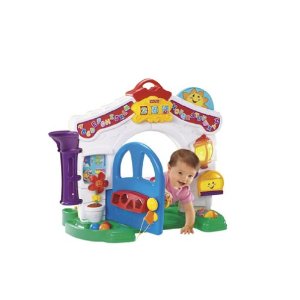 ove it and so do parents. Parents have commented that this is one of the most used toys that their child has ever had.
With the Fisher Price Learning Home your young child will learn to open and close things like the door and the mailbox. They will love to crawl through the door. It is also sturdy enough for a child new to standing/walking to pull up on it without tipping over.
This toy will "grow" with your child as they learn new things. Here are just a few of the things that your child will enjoy with the Fisher Price Learning Home:
Open and close the door
Crawl through the door while giggling
Put mail in the mail box for them to find when they open it
They actually find it hilarious to just open and shut the mailbox
Open/Shut the window
Turn on/off the light
Turn the numbers on the house or clock
Push the buttons on the radio
At first, pull shapes out of the different shaped holes
Then, slowly learn how to put the shapes back into the right shaped holes
Activate one of the 21 songs by touching, tweaking or pulling different parts of the play set
Learn to drop balls down a water spout in order to hear the itsy-bitsy spider song
Ring the doorbell
Watch a flower that grows
and more.....
After a while of playing you will be able to do something like hold your child up to a real light switch and "say turn the switch on or off" and they will know what to do.
Not only does your child learn a lot they have TONS of continuing FUN from this Fisher Price Toy. You can read more Customer Reviews at Amazon.com.
This is a WINNER!
Available Online at:
Walmart.com ( Not available)
---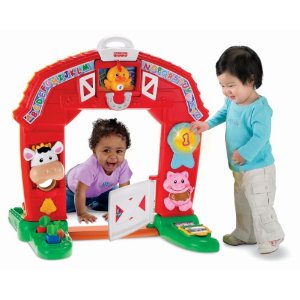 Fisher Price Laugh & Learn Learning Farm
This Fisher Price Learning Toy teaches a whole different aspect of life. Everything with the farm is very interactive and teaches your child "cause and effect".
Your little one will love the sounds of the farm animals and how the door creaks when it is opened and a "slam" when it shuts. Another fun thing for your little one is being able to "crawl" through the door. Your child and their playmates will have a lot of fun just playing around together with the whole farm.
If you have a naturally curious child then they will love all the bells and whistles associated with the Laugh & Learn Learning Farm. It will truly keep them entertained for hours.
This toy can keep you from having to fill your house with a bunch of other toys because it will keep your child's attention for so many hours, days and months.
Once your child crawls through the barn door they trigger sing-along songs, music, sounds, dancing lights and a lot of fun phrases. There are chicken eggs to count, veggie shapes to sort, a cow to be fed, lights to turn on and lots of flipping, pressing, put and take things to discover.
On the farm your child can learn their numbers, alphabet, counting, Animal names and sounds, Shapes, Colors, Greetings, Opposites and Weather.
If you already have the Learning House then the Laugh & Learn Learning Farm will make a great addition to broaden your child's learning activities.
Avialable online at:
---
Laugh & Learn Say Please Tea Set
The Laugh and Learn Say Please Tea Set is a Cute, Fun inexpensive toy which will entertain your daughter for hours on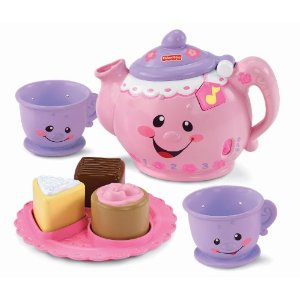 end. She will likely set up all her dolls and stuffed animals for tea.
The teapot has 3 settings: one that provides cute sounds when your child "pours" the tea, when you lift/close the lid and when you press the "teabag". The other 2 settings have other sounds/music/songs that go along with other actions.
You can "take a sip" of tea with your child and say "Ahhh" when you put the cup down.
The "Say Please Tea Set" has 2 pretty cups, cute teapot, three tasty treats and plenty of sounds, songs and fun phrases. Introduces your child to pretend play while helping them learn about shapes, counting, manners and more.
This delightful toy set makes a great gift for grandchildren or friend's children. Another place that I have found that this toy works well is for children with long term illnesses who have to spend a lot of time in the hospital.
It is also something very affordable as an "Angel Tree" gift.
Available Online at:
---
Fisher-Price Brilliant Basics Little Glamour Gift Set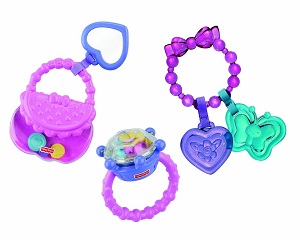 If you know a baby that is beginning to teethe then this Little Glamour Set is a great gift. This pretty purse is perfect for go-anywhere fun with its mirrored heart and rattling coins.
Set also includes a dimond ring rattle that is also a teether. The little bracelet is teethable and features charms.
Easy for baby to hold and shake.
This set is made up of charming baby girl toys and makes an adorable gift set for your baby or grandbaby and also as a baby shower gift.

Available for Purchase at: Amazon.com Ebay.com
---
Fisher Price Brilliant Basics Rock Stack

There are so many ways for baby to play with this Fisher-Price classic. Younger babies can grasp, hold, shake and explor with these five colorful rings.
The smallest ring has a shiny, reflective surface for baby to discover inside, with colorful, swirling beads that make fun rattle sounds.
When baby is rady to sit and stack, he or she can place rings on the post, then bat at the wobbly base to make it rock back and forth.
These activities help baby develop eye-hand coordination and introduces your baby to the concept of relative size as they learn to sort and stack from biggest to smallest.
Hands on activities strengthen baby's sense of touch and as baby bats and rocks the toy baby enhances gross motor skills.
Available for Purchase at: Amazon.com Overstock.com
---
Check Out These Additional Laugh and Learn Toys